Vision
Realization of safe K-Water through the advancement of technology for infrastructure
Main business
Researching and developing disaster-preventive technology and safety of infrastructures
- Designing dam/embankment and water supply/complex facilities and developing technology for construction, maintenance, and reinforcement
- Analyzing and evaluating the riskiness of irrigation facilities, developing management system and disaster prevention technology
- Evaluating, securing, and researching the safety of irrigation facilities for earthquake
- Developing technologies for investigating, analyzing, and diagnosing advanced equipments and IT fusion
- Conducting close examination on irrigation facilities (including underwater investigation) and evaluating safety
Researching and developing geological and underground water areas
- Developing riverbank filtrate and underground water and conducting diversified research on the sources of water intake
- Researching techniques for evaluating river, geological features around waterway, and underground water
- Investigating and restoring underground water pollution and researching environmental geological features
- Operating a research group for studying national policies for the enhanced use of underground water at waterside
- Investigating and evaluating the fields of dam, slope, foundation, and tunnel
Operational direction
Realization of safe K-Water through the advancement of technology for infrastructure
Leading future-based technique
Strengthening techniques with the operation of national R&D research group
Developing ICT-fused leading techniques
Technical support for total-care
Operating system responsible for and supporting prioritized main business
Operating system supporting techniques in management cycle
Creation of communication synergy
Operating a forum for universal communication
Strengthening individual capability and constructing a mutual cooperation system
About the department
Infrastructure Research Center has constructed and been operating a supersized centrifugal model testing equipment weighing 800g.ton. and measuring 8m in arm length as well as an earthquake simulation testing equipment which is essential for evaluating earthquake-proof performance in order to 'construct global research infrastructures and maximize its use'. The centrifugal model testing equipment is used not only for dam, slope, and foundation structures but also for designing the foundation of marine structures in deep water such as oilfield or aerogenerator in the ocean and for evaluating their performances.
In addition, it uses world-class research infrastructures both in name and reality including triplex standard triaxial apparatus, large vibration triaxial apparatus, resonance column tester for fabricated materials (the biggest one in Korea) which are required for designing infrastructures and investigating dynamic properties of dam materials, and soil quality testers such as large consolidometer and direct shear apparatus and hydration heat-measuring tester and structure materials tester such as UTM with 5,000kN capacity for the purpose of designing and constructing water resource facilities and developing maintenance techniques.
It also has introduced safety management techniques based on hazard severity in order to develop pacesetting future dam safety management technologies and plans to develop a next-generation decision-making tool (D-Smart) by 2014. It is expected that the development of such tool will lead next-generation technical skills for dam safety management by converting the paradigm of safety management so as to perform comprehensive and systematic dam vulnerability assessment and riskiness management, expanding the concept of dam limited in the existing structures.
Attracting "research group for the high use of underground water at waterside" worth around 25 billion won with the support of Korea Agency for Infrastructure Technology Advancement (KAIA) for strategic participation into national R&D project, it has contributed to ensuring water security in the country preparing against a possible water shortage in the future by developing technique of restoring underground water level at waterside, improving indirect water intake construction technique as well as technology to which shallow groundwater heat source fusion energy is applied and by constructing sound water circulation system at waterside. It also has attracted "research group for developing integrated safety management techniques on structures at waterside based on disaster scenario" (worth around 33.2 billion won) and conducted researches to improve disaster safety management system of SOC facilities at waterside in an innovative way.
As mentioned above, Research Institute for Infrastructure devotes itself to the development of techniques for safety and happy life of the nation by ensuring safety of infrastructures against unusual weather and increasing natural disasters at present, improving performance and functions of the existing facilities, and evaluating the soundness of deteriorated facilities.
Moreover, it constructs research flow system by anticipatorily responding to and giving feedbacks on difficulties and problems occurring when constructing dams, water supply facilities, and complexes and also reinforces regular inspection system through connective cooperation with other business departments and realizes commercialization and substantiality of research.
Core techniques
Owning the world's largest centrifugal model tester and operation of center
- The use of multi-purpose safety and performance evaluation on Angat Dam in Philippines and other dams
Tool D-Smart for evaluating dam safety management based on riskiness
- Having techniques specialized for safety, improving the existing dam safety management evaluating method, and planning to register programs
Techniques of investigating and evaluating underground water
- Enhancing the prediction accuracy of drought and flood of underground water, establishing policies for underground water, and participating in making decision
Water-pressure gauge using optical fiber sensor
- (Technology transfer) Technology enforcement agreement concluded between K-Water and a small and medium company (ICES) in August 2010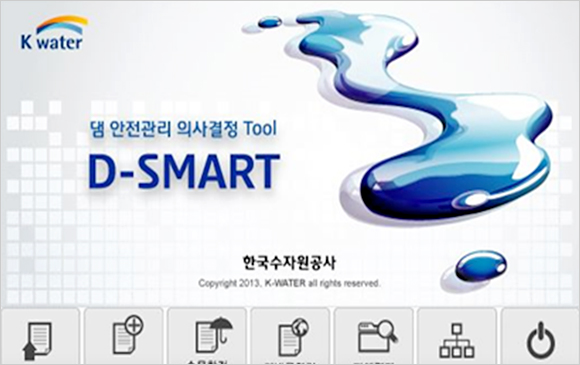 Development of a next-generation decision-making tool for dam safety management (D-Smart)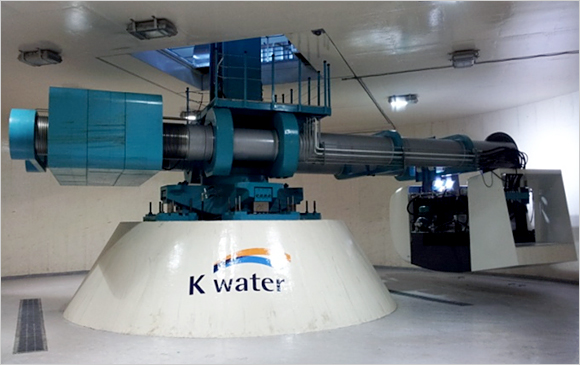 Large centrifugal model tester(simulating artificial gravity by 150 times max.)
Leading technology by operating national policy research group
Research group for developing integrated safety management techniques on structures at waterside (conducted by KAIA and K-Water Research Institute)
Main goal
Improving 20% of disaster-preventive techniques
Reducing 50% of restoration response time
Research period and budget
2013 to 2018 (5 years)
33 billion won in total (24.3 billion won by government)
Participating institutions
Conducted by K-Water

- 22 other institutions to participate
- (Details) Integrated reduction of water disaster from SOC facilities (dam, barrage, embankment, bridge, revetment, and slope) and construction of integrated safety management flatform
- Application of test bed to the areas of GangjunGgoryung weir and Imha Dam (dam, barrage, embankment, slope)
Research group for the high use of underground water at waterside (conducted by KAIA and K-Water Research Institute)
Main goal
Recharging 20% of underground water loss
Increasing 20% of water intake capacity of riverbank filtrate
Enhancing 10% of geothermal heat efficiency
Research period and budget
2011 to 2016(4 years and 8 months)
24.7 billion won in total(18.7 billion won by government)
Participating institutions
Conducted by K-Water

- 21 other institutions to participate
Ultimate goal :


Development of underground water recharging technique, riverbank filtrate construction technique, and geothermal heat technique

Name of K-Water project :


Development of technique for evaluating vulnerability to flood of underground water
- (Details) Development of technique for evaluating vulnerability to flooding due to strong rainfall in underground water and stream water at large river
- Test bed: Area having alluvial layer at and around Nakdonggang River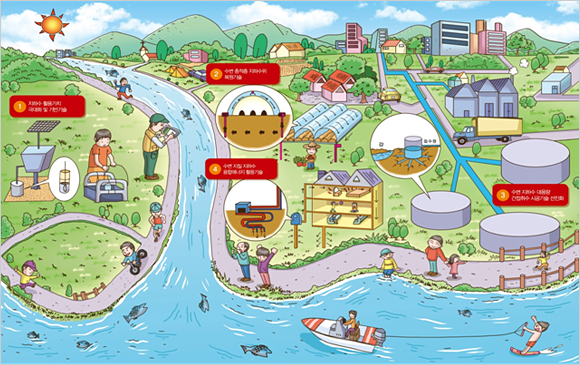 Diagram on the research for the high use of underground water at waterside