HOME
Global Cooperation
Asia Water Council
Introduction
Introduction
AWC was established in 2016 for cooperation on solving Asian water issues with over 130 member organizations.
Vision
Asia Water Council will address three main domains of water cycle
Water Usage for all aspect
Natural Environment Protection
Natural Hazard Mitigation
Mission
The mission for the council is to encourage mutual growth and sustainable development by involving the stakeholders in water through building a cooperative tie with the leading world water organizations.
Strategy
The Council is to respond to the water goals in Sustainable Development Goals in Asia.
The council is to provide a platform in which all stakeholders related to Asian water establish a cooperative network to address water challenges.
The council is to adopt SWMI(Smart Water Management Initiative) to provide appropriate solutions to each region in Asia.
Structure
Board of Council(BoC) with 27 Members
1 President, 4 Vice Presidents, 1 Treasurer
6 Special Committees
Over 152 members in 6 Colleges(sub categories)
[Asia Water Council] Board of Council Meeting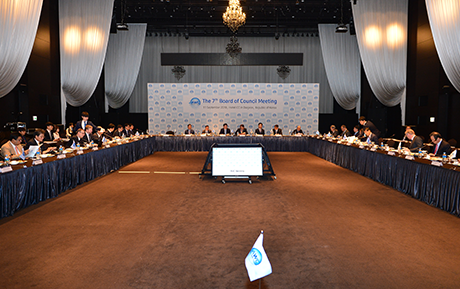 [Asia Water Council] Organization