Clean energy as a next-generation new growth engine
New clean energy business model for local communities
K-water is concentrating its efforts on sustainable clean energy development for local communities in development projects led by public interests.
The Hapcheon Dam Floating Photovoltaic Power Generation project is expected to serve as a major catalyst for the revitalization of the local economy by allowing the residents to join the SPC invested by K-water as debt investors and earn stable profits. Also, the Yongdam Dam Floating Photovoltaic Power Generation project is a development project customized to the local area where the residents share the revenues from power generation with K-water by jointly investing in the project through their cooperative association.
In this way, K-water is enhancing the public values of public corporations with a new business model that seeks coexistence with local communities, expanding sustainable eco-friendly energy businesses.
A briefing session
on the Yongdam Dam
Floating Photovoltaic Power Generation Project

A launching ceremony of the
Consultative Group for the Hapcheon Dam
Floating Photovoltaic Power Generation Project
Floating photovoltaic power generation led by K-water
K-water began testing the possibility of floating photovoltaic power generation development by installing a 2.4-kW pilot model in 2009 on the surface of Juam Dam reservoir. Following the installation of a 100-kW demonstration model in 2011, K-water constructed a 500-kW facility at the dam in 2012, which enabled the world's first commercial floating photovoltaic power generation using the surface of a dam reservoir. Since then, K-water has been laying the foundation for the widespread use of the power generating method by promoting it thorough environmental verification and the reduction of equipment production costs. In 2016, K-water constructed a 2-MW power generation facility at Boryeong Dam in 2016, followed by a 3-MW facility at Chungju Dam in 2017, for commercial power generation. Especially, through environmental monitoring which has been carried out since the completion of the floating photovoltaic facility at the Hapcheon Dam in 2013, K-water has continuously tracked its impact on water quality and ecology. In addition, K-water has taken the lead in disseminating and expanding clean energy projects that are harmless to the natural environment by using eco-friendly equipment compliant with the Korean tap water hygiene and safety standard (KC).
What is floating photovoltaic power generation?
It is an eco-friendly method for generating electric power that combines marine technology (shipbuilding + mooring) and renewable energy technology. It uses a fusion solar photovoltaic facility composed of solar modules installed on the surfaces of dam and reservoir water.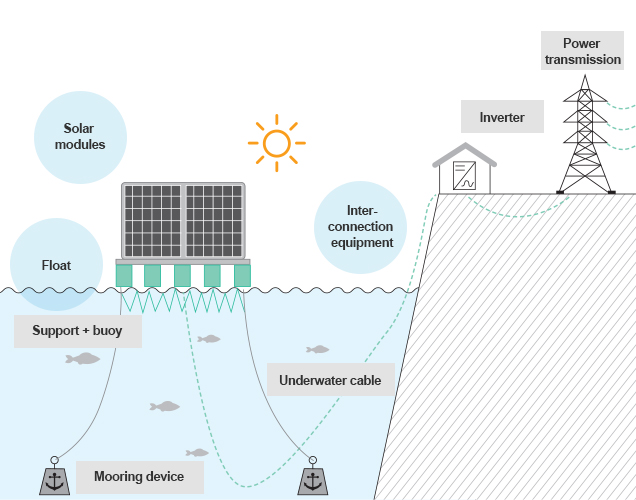 Hapcheon Dam (500 kW)

Boryeong Dam (2 MW)

Chungju Dam (3 MW)
Large-scale development by securing the publicness of dams and residents' acceptance
As of 2018, the Hapcheon Dam (40 MW) and Yongdam Dam (20 MW) projects are being pushed forward to provide the locals with the opportunity to participate in the projects and to contribute to local development and increase their income through the establishment of an SPC and the application of a joint investment model.
Development of 550 MW capacity power generation projects for non-water supply dams until 2022
In conjunction with the government's energy policy (Renewable 3020), project development is being promoted primarily with local governments currently operating floating photovoltaic power generation facilities or in favor of it, and specific development plans will be established based on the investigation of floating photovoltaic resources.
※ Floating photovoltaic resource investigation
Target : 40 facilities including dams (multi-purpose, water supply and water control dams), flood control reservoirs or water detention ponds
Period : February 2018 to February 2019
Contents : Floating photovoltaic capacity of each facility in consideration of development conditions including water system linkage, water level, etc.
Hydrothermal energy diffusion
K-water endeavors to create new industries that utilize the added value of water leading a shift in thinking about energy. As a pilot project based on the properties of water (4℃), it has introduced a cooling and heating system that uses hydrothermal energy to the Lotte World 2, which led to the reduction of annual energy costs by 28% and 348 tons of carbon emissions. Furthermore, K-water is focused on the development and dissemination of a standard model for urban distributed hydrothermal energy projects and the improvement of relevant systems by promoting legislative work to include hydrothermal energy in new and renewable energy sources.
Heating and cooling (3,000 RT) using raw water (50,000 m3/day) from the Phase 1 Seoul Capital Area Waterworks
* Total maximum heating and cooling load : 30,000 RT (hydrothermal, ice thermal storage, geothermal, turbo chiller, boiler)
Reduction of total energy consumption by 73% and CO₂emissions by 38% (compared to the absorption chiller and heater with the same capacity)
수열에너지 확산 현황 표로 구분, 흡수식 냉온수기, 수열원 히트펌프, 절감량, 절감률, 비고 정보 제공
Classification
Absorption chiller and heater
Water source heat pump
Reduced amount
Reduction rate
Remarks
Total consumed energy
(TOE)
2,612
697
1,915
73.3%
CO₂emissions
(t CO₂eq.)
6,065
3,776
2,289
37.7%
Efforts to expand projects

World's first development of a standard urban distributed hydrothermal project model using large-area waterworks(January 2017)
Joint development of hydrothermal clusters using deep water from Soyang River
* Signing of MOUs with Gangwon-do Province and Chuncheon City(July 2017)
Introduction of hydrothermal energy to buildings in Seoul(relevant ordinance to be announced)

Achievements

Introduction of hydrothermal energy system to the Yeongdong-daero Complex Transfer Center and the Samseong-dong Hyundai Motor Company building in Seoul
* Reduction of CO₂emissions (30,000 tons), mitigation of heat island phenomenon
Development of hydrothermal clusters in Gangwon-do Province
* 7.5 times bigger than the Lotte World Tower
Designated as an energy subject to mandatory use; utilization expanded to newly built buildings