Space for citizens to live life to the fullest, eco-friendly waterfront cities
Creation of waterfront space to improve the national quality of life and public values
Recently, there has been a growing demand for the utilization of waterside space linked with the quality of life due to de-urbanization, the advancement of industrial structures, and the improvement of income levels. In addition, there is a growing need for sustainable city development projects as a means of enhancing urban vitality and identity. Therefore, K-water, moving away from complex development projects focusing on the supply of industrial and residential space, pursues the improvement of the national quality of life and public values using water, based on its experiences in all fields related to water circulation including future-oriented culture, amenity, safety from disasters, smart water city (SWC), and low-impact development (LID) along with the application of Fourth Industrial Revolution technologies.
Creating global innovative growth cities where nature, people, and technology meet and accelerates the arrival of the future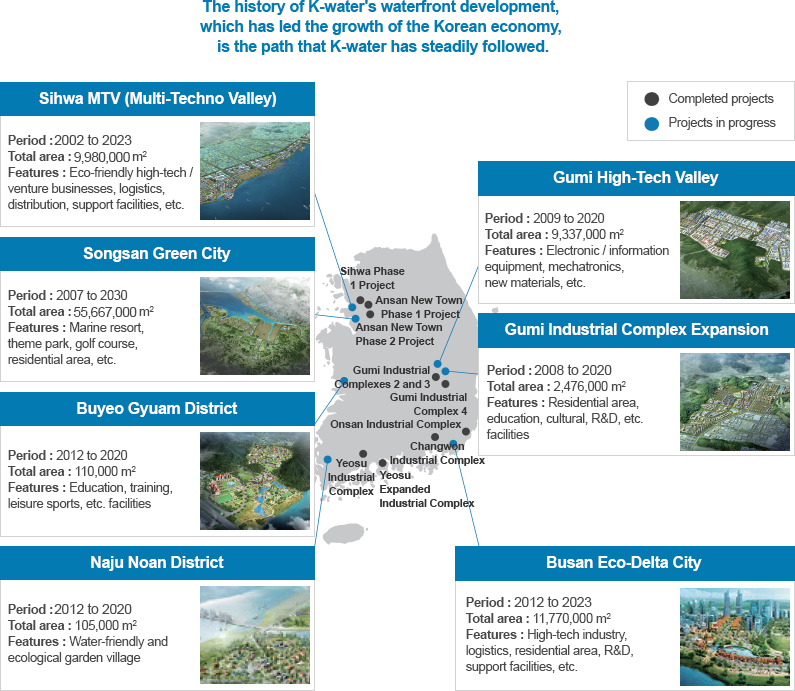 The history of K-water's waterfront development, which has led the growth of the Korean economy if the path that K-water has steadily followed.
Completed Projects : sihwa phase 1 Project, Ansan New Town Phase 1 Project, Ansan New Town Phase 2 Project, Gumi Industrial Complexes 2 and 3, Gumi Industrial Complexes 4, Onsan Industrial Complex, Changwon Industrial Complex, Yeosu Industrial Complex, Yeosu Expanded Industrial Complex
Projects in progress
Sihwa MTV (Multi-Techno Vally)

Period : 2002 to 2023
Total area : 9,980,000 m2
Features : Eco-friendly high-tech / venture businesses, logistics, distribution, support failities, etc

Songsan Green City

Period : 2007 to 2030
Total area : 55,667,000 m2
Features : Marine resort, theme park, golf course, residential area, etc

Buyeo Gyuam District

Period : 2012 to 2020
Total area : 110,000 m2
Features : Education, Training, Ieisure Sport, etc. facilities

Naju Noan District

Period : 2012 to 2020
Total area : 105,000 m2
Features : Water-friendly and ecological garden village

Gumi High-Tech Valley

Period : 2009 to 2020
Total area : 9,337,000 m2
Features : Electronic / information equipment, mechatronics, new materials, etc

Gumi Industrial Complex Expansion

Period : 2008 to 2020
Total area : 2,476,000 m2
Features : Residential area, education, cultural, R&D, etc. facilities

Busan Eco-Delta City

Period : 2012 to 2023
Total area : 11,770,000 m2
Features : High-Tech industry, logistics, residential area, R&D, support failities, etc
Creating economically, environmentally, and socially sustainable waterfronts
K-water has supported local governments in creating leading water circulation cities, such as the consignment of the Andong City Water Circulation City Creation Project based on its expertise in water management, has been creating waterfront areas (Busan EDC, Buyeo Gyuam, and Naju Noan), and participating in the smart city national testbed city (Busan EDC) to prevent reckless development around the nation's rivers. Moreover, K-water has created eco-friendly complex waterfront cities, such as Sihwa MTV and Songsan Green City, and knowledge-based complexes, such as carbon fiber-based Gumi Expanded·High-tech City. We are striving to create sustainable waterfront values in line with the rapidly changing management of the environment.
Busan Eco Delta City will be created as a 'Smart City National Testbed City,' a differentiated waterfront city utilizing K-water's water management and innovative technologies. In order to create a global innovation growth city that advances to the future in which nature, people, and technology harmonize, we have selected three specialized strategies and seven core contents that address existing urban issues and create a future city.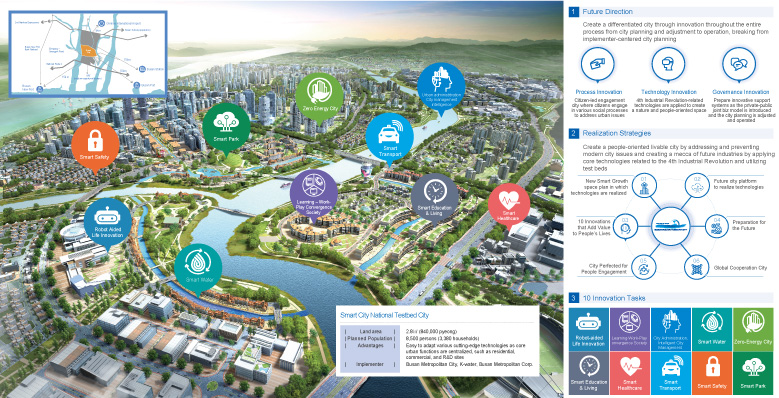 2nd Namhae Expressway / Busan New Port Back Railroad / Eomgung – Saenggok Road / National Route 2 / Busan Subway (expansion) / Busan New Port / Gimhae International Airport / Busan Station / Busan Port
Smart Safety / Robot Aided Life Innovation / Smart Water / Smart Park / Zero Energy City / Learning – Work-Play Convergence Society / Smart Transport / Smart Education & Living / Smart Healthcare
Smart City National Testbed City

Land area : 2.8㎢ (840,000 pyeong)
Planned Population : 8,500 persons (3,380 households)
Advantages : Easy to adapt various cutting-edge technologies as core urban functions are centralized, such as residential, commercial, and R&D sites
Implementer : Busan Metropolitan City, K-water, Busan Metropolitan Corp.

Future Direction

Create a differentiated city through innovation throughout the entire process from city planning and adjustment to operation, breaking from implementer-centered city planning

Process Innovation : Citizen-led engagement city where citizens engage in various social processes to address urban issues
Technology Innovation : 4th Industrial Revolution-related technologies are applied to create a nature and people-oriented space
Governance Innovation : Prepare innovative support systems as the private-public joint biz model is introduced and the city planning is adjusted and operated

Realization Strategies

Create a people-oriented livable city by addressing and preventing modern city issues and creating a mecca of future industries by applying core technologies related to the 4th Industrial Revolution and utilizing test beds

New Smart Growth space plan in which technologies are realized
Future city platform to realize technologies
10 Innovations that Add Value to People's Lives
Preparation for the Future
City Perfected for People Engagement
Global Cooperation City

10 Innovation Tasks

Robot-aided Life Innovation
Learning-Work-Play Convergence Society
City Administration, Intelligent City Management
Smart Water
Zero-Energy City
Smart Education & Living
Smart Healthcare
Smart Transport
Smart Safety
Smart Park