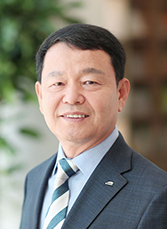 Hello,
I am Yun Seog Dae, CEO of K-water.

Welcome to the website of K-water.
While the 20th century was the era of petroleum as black gold, the 21st century is the era of water as blue gold. With a growing population, urbanization, and environmental pollution, water has become a rarer commodity globally. In particular, the ability to secure and manage water amid climate change has grown in importance worldwide.
Water has become an essential resource that determines people's happiness and national competitiveness. Water provides clean energy that protects the environment, is an indispensable ultrapure supply for high-tech industries, and is the driver of future growth that will replace the semiconductor industry.
K-water has a strong sense of responsibility. In the rapidly changing water environment, K-water has accomplished its assigned tasks since its inception in 1967.
We are proud that K-water has responded to duties assigned by the nation and the people, such as water resources development for industrialization and economic development in the 20th century, water welfare for an enhanced quality of living, innovation in the nation's water industry, and strengthening global competitiveness.
However, we are not complacent with our success.
All employees at K-water will be united to cope with rapidly changing trends and will open the era of new water in tandem with the nation's resurgence. .
We will place a top priority on protecting the lives, safety, and properties of people from climate disasters. The latest climate disasters have occurred in an unprecedented dimension, previously beyond our imagination. We will enhance our readiness for the worst-case scenarios.
We are dedicated to Korea's economic development through developing high-value-added water industries, such as ultra-pure water, seawater desalination, water energy, and active exploration of overseas water markets.
K-water will achieve harmony between public interests and efficiency in tandem with the government's policy directions. Efficiency is essential to increase public value in a multi-crisis era. We will develop water management based on data and science through digital transformation and R&D and deal with national water issues, such as drought, water quality, and water welfare problems in socially disadvantaged areas.
We will also innovate the organization to achieve K-water with honesty, fairness, and common sense as the guiding principle.
K-water's fundamental duties are supporting national growth and protecting people's happiness.
We will actively respond to climate change, transition to eco-friendliness, and lead the growth of the global water market, offering new hopes and bringing a bright future. We look forward to your continued support and patronage.
Yun Seog Dae
CEO
K-water