HOME
About K-water
CEO Message
CEO Message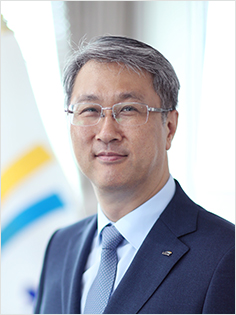 "As a global leader, we are making a new leap in the management of water resources in Korea"
Since 1967, K-water has played a key role in Korean economic growth, and has contributed to people's welfare and enhanced the quality of life by comprehensively developing and managing water resources.
Protection of people's lives and assets from severe water disasters caused by climate change is the fundamental mission of K-water. Today, Korean people require changes in the public sector to provide them with new and touching services.
K-water stands ready with half a century's worth of accumulated water management know-how. We will introduce basin-based quantity-quality-ecology nexus of water management, and establish eco-friendly smart water management by applying the 4th industrial revolution big data technologies. We will work jointly with the Korean government's 'New Southern Policy' and 'New Northern Policy' to actively propel overseas projects. K-water's water data platform, which will provide lifestyle services, can be used to put variable water data to further value. We will become a trusted and beloved public institution through innovation and communication.
We look forward to your continuous interest and support for K-water.
Thank you.
K-water CEO
Park Jae-Hyeon