Overview
The 1st Asia International Water Week (AIWW) is a triennial water gathering held every three years to share tangible measures for resolving Asian water problems. The Asia Water Council in collaboration with the authorities of host country and host city, organizes the event.
Focusing on the issues discussed by the member organizations of AWC for three years, water experts from around the world including those from Asia will gather to discuss Asian water issues and action plans to address these issues, and this will be disseminated to the global water community through AIWW.
AWC aims to provide practical Asian Solutions for Water challenges that are present in Asia. AWC intends to utilize AIWW as a platform to achieve SDGs by successfully hosting trinity of AIWW programs.
In particular, the AWC will declare the "Asia to World Statement" together with the AWC member organizations at AIWW and declare a common goal to resolve the water problems not only in Asia but also around the world. Furthermore, through the Asia Water Issues, the main program of AIWW, the solutions for water problems in Asia will be discussed and spread to global issues.
In addition, Water Project Forum will share the water project, which has been promoted by member countries and member organizations of AWC, and willl provide Implementation plan to water problems. With the success of hosting these three programs, AWC is convinced to achieve SDGs suggested by the UN.
1st AIWW
1st Asia International Water Week
2nd Asia International Water Week

Comprehensive Assessment
The 1st Asia International Water Week was held at Gyeongju HICO from 20th September 2017 to 23rd September 2017. This event was held jointly with the Korea International Water Week (KIWW: Korea International Water Week 2017), and was jointly supervised by K–water, the Asia Water Council (AWC), and the city of Gyeongju.
The 1st Asia International Water Week were participated by 60 countries, and it is recorded that a total of 15,500 people participated, and many high-ranking officials including representatives of the first national institution, vice minister, parliamentarians etc.
It was a huge success considering the fact it was the first event of its kind and high profile of participants that attended this event.
Raise Water issues in Asia to Global Agenda
One of the key accomplishments of the 1st Asia International Water Week is that we were able to make water problems in Asia from an Asian perspective a global issue through putting a focus on 'Asia's resolution for solving water issue'' during opening ceremony, a Asia to the World declaration, Water Project Forum, AWC EXPO Pavilion, and meeting with variety of people from different nations.
[Asia Water Council] Asia International Water Week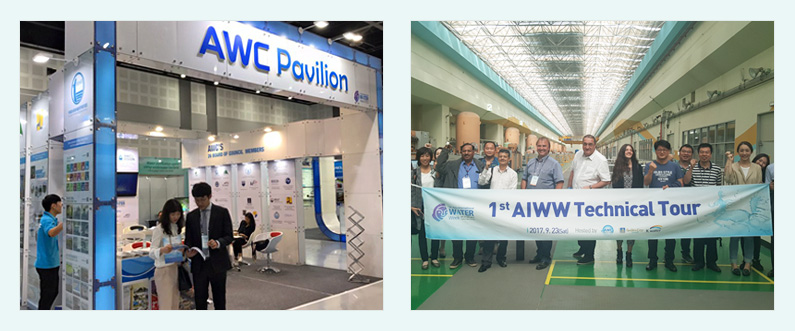 Water Industry Promotion and Job Creation
At the Plenary Session, K-water vice president delivered keynote speeches on water industry revitalization and job creation. By 2030, 40% of the world's total water usage is expected to increase, and as the value of water increases, the water industry is rapidly emerging as a business target.
Recently, it has been integrating with IT, BT and NT, And that the water industry is being developed as a future strategic industry in major countries. According to the UN Water (2016) report, three out of four global jobs are highly water dependent, and investment in water related infrastructure is economically viable and produces positive results for the industry as a whole.
Finally, K-water's goals for 2021 were proclaimed and the positive effects on water industry development and job creation were presented through the Asia International Water Week.
Sharing Knowledge for Business Overseas
K-water held a special session to launch the Water Industry Platform Center to share information such as MOU for the water industry SMEs overseas expansion, Hyosung's overseas partnership strategy and the water industry platform center plan. K-water CEO, CEO of Hyosung Good Sprinter, and representatives of 39 SMEs participated in the project.
[Asia Water Council] Asia International Water Week

Announcement of Statement for Asian SDG
The Asia-to-the World Declaration was a program to share and adopt a joint declaration on national and international water issues and to provide concrete action plans for the implementation of successful examples with representatives of 40 organizations, including AWC member organizati- ons.
Total of 12 items for implementations were selected along with the declaration. Indonesian IAHE declared it will strengthen connection between water experts and host an annual international seminar based on the declaration on resolving world poverty and hunger caused by water problem.
Vietnam declared to discuss various water problems such as IWRM, Urban water, and Nexus through hosting 2018 Vietnam International Water Week. By drawing out these declaration from various nations, it viable to say IWW has played a vital role in making asian water problems a global issue. Also these discussions held by nations hold a great meaning itself.
Secure for AIWW Sustainability
The AWC presented the decision for venue of the second AIWW as the main decision of the fifth board of directors. As a result, Indonesia Yogyaka- rta was selected as the host city of the 2nd Asia International Water Week, and the MOU was signed between the AWC President and the Minister of Indonesia.
Indonesian public sector minister Basuki met with AWC chairman met and thanked for the proposal that made Yogyakarta the next hosting city and pledged to prepare for the success of the second AIWW.
Official presentation was made at the closing ceremony to decide Yogyakarta as the 2nd AIWW host city and conducted change of flag ceremony that symbolized closing of this event to make way for AIWW.
Through the 1st AIWW, the AWC established an opportunity to solidify its position as an organization for Asia water cooperation. As the second AIWW venue was selected as Yogyakarta, Indonesia, AWC secured sustainable future.
[Asia Water Council] Asia International Water Week