HOME
Technology
Water Supply Projects
Smart Piping & Operation Technologies
Smart Piping & Operation Technologies
K-water has developed and built *ICT-based water operation systems to acquire, monitor and control all relevant data on a real-time basis from the whole water supply systems ranging from water sources to tap water. The acquired data are analysed in terms of water quantity, water quality and energy management with the help of intelligent water network softwares that enable K-water to supply drinking water without service interruption and formulate an optimal plan to rehabilitate water supply infrastructure.
* ICT: Information & Communications Technology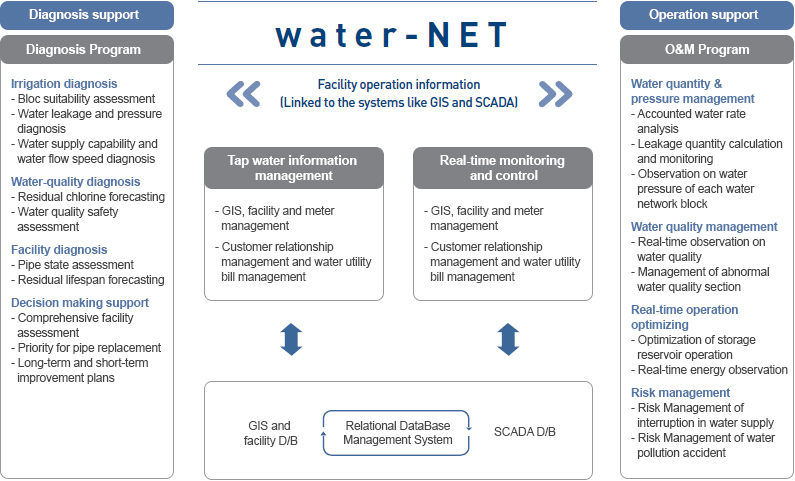 water-NET (Diagnosis, Operation and Management System for Water Distribution Networks)

Water-NET is a water network operation system with which it's possible to collect realtime information about waterworks, ensure a GIS-based water network inspection, and manage water quantity, quality and crisis and energy.

iWater 5(SE) (Standard Water Operating Systems)

iWater 5(SE) is an HMI system for the supervisory control of all relevant facilities (including intake stations, water treatment plants, booster stations, pipelines, distribution reservoirs, water taps, etc.) at a remote integrated center.

RWIS (Real-time Water Treatment Information System)

RWIS is a system to querry and provide real-time operation data about waterworks on a basis of one minute.

Water-INFOS (Integrated Waterworks Information System)

Water-INFOS is an integrated waterwork solution for the management of municipal or provincial waterworks, including GIS-based infrastructure management, customer management, tariff policy management, public relation management, etc.

FCPTT (Flowmeter Calibration & Performance Testing Technology)

FCPTT is a technology to help with fluid flow performance tests on watermeters, valves, etc. through the precision correction of flowmeters (CMC: 0.08%).

SCSL(Smart Cleaning & Spray on Lining technology)

SCSL is a cleaning & spray lining rehabilitation technology for large-diameter water pipes (with D500mm to D1,650mm in diameter) that requires the use of equipment having a structure of polygonal hydraulic cylinder frame.