Location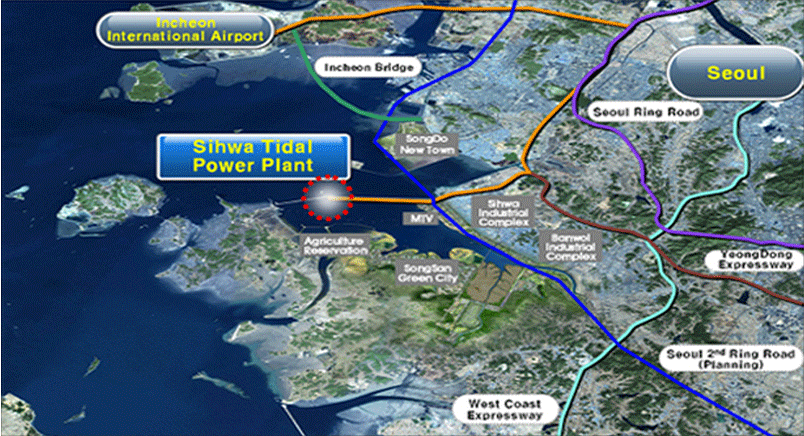 Background
' 94.01 : Comletion of Sihwa Tide Embankment
' 00.12 : Lake use plan was changed (Freshwater lake→Seawater lake)
' 02.12 : Sihwa Tidal Power Plant Project decided
' 04.12 : Commencement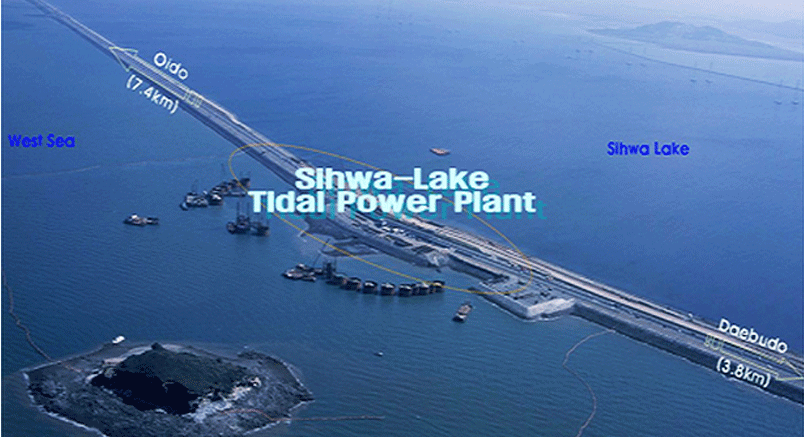 Overview
Location : Sihwa Tide Embankment
Facilities : 254MW (25.4MW per turbine, 10 turbines, 8 Sluice Gates)
Annual Generation : 552.7GWh
Generation Type : Single-Effect Flood Generation Type
Project Period : 2003~2010
Project Cost : US$ 355.1 million
Objectives
To develop clean, renewable energy supplies
- Annual oil subtitution Effect : 862,000 barrel
- Annual reduction of CO2 emission : 315,000 ton'
To improve the water quality of Sihwa Lake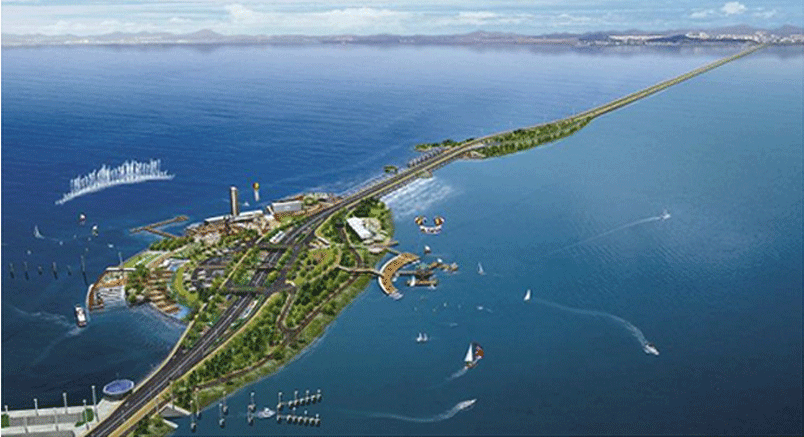 Structure Layout

What is Tidal Power Generaton?
The seawater is stored inside a tidal embankment built at the mouth of a river or bay, where tides ebb and flow.
The turbines and generators produce power by exploiting the gap in the water level between the water outside and inside the embankment. It can generally be classified as one-way generation (single effect) or two-way generation (double effect).
Single-Effect Flood Generation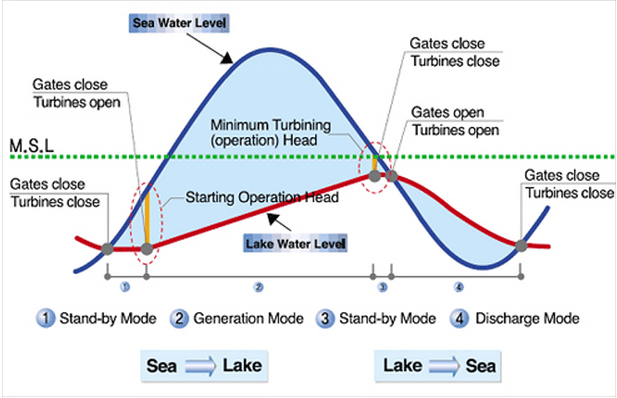 Generation System

Plane Plan

Eco park area Plan
Culture & Art Area

Recreation Area
Eco-environmental Area

Construction Plan

Site View

Overseas Tidal Power Plant
Plant List

| Name | Sihwa(Korea) | Rance(France) | Annapolis(Canada) | Jiangxia(China) |
| --- | --- | --- | --- | --- |
| apacity(MW) | 254 | 240 | 20 | 3.2 |
| Annual Generation (GWh) | 552.7 | 544 | 54 | 6 |
| Head(m) | 9.16 | 13.5 | 8.7 | 8.39 |
| Generation Typ | Single | Double | Single | Double |
| Completion | 2010 | 1967 | 1984 | 1986 |
| Gneral View | | | | |